Our service to the transmission and distribution industry is predominantly focused on providing infrared thermal imaging inspections and surveys. We have an experienced team who hold a background in electrical thermal inspections. We have also commenced expanding our services by offering detailed infrared optical gas imaging of SF6 in circuit breakers.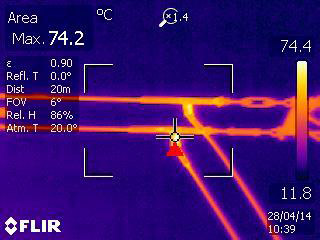 ScanPro is continuing to build its operations to offer a large range of UAV applications for electrical distribution and transmission networks.
Conducting remotely piloted aircraft operations around transmission networks requires a considerable amount of planning and communication. We currently use reputable skilled contractors and find that working together with a range of operators has helped us to supply data acquisition nationwide with the best results.
We use leading infrared camera technology available to achieve our results. High voltage networks can pose a great risk even from a vantage point that looks like a safe distance. To successfully scan transmission towers or switching yard apparatus from the ground you need the right equipment and accurate thermal sensors. ScanPro uses Flir T600 series cameras coupled with a IR telephoto lens to obtain accurate readings and remain at safe distances.
Results
All of our findings are geotagged. We can provide our data in a range of formats to best suit your Geographic information system. We are happy to work together with utilities to manage and protect sensitive data.