We are your partners for reliable, integrated data gathering.
With over a decade of experience in field, drone operations and inspections, we have accumulated thousands of hours of data capture experience. We utilise state-of-the-art sensors and advanced visual data collection techniques to deliver top-notch results, allowing you to provide data capture well outside your normal geographic operational locations.
Helping your Renewable Energy Asset:
Curtail operational wastage

De-risk potential threats

Build environmental resilience

Understand system health

Comply to regulations and obligations

Reduce insurance costs
Our Solutions to the Solar, Wind & Renewable Energy Sector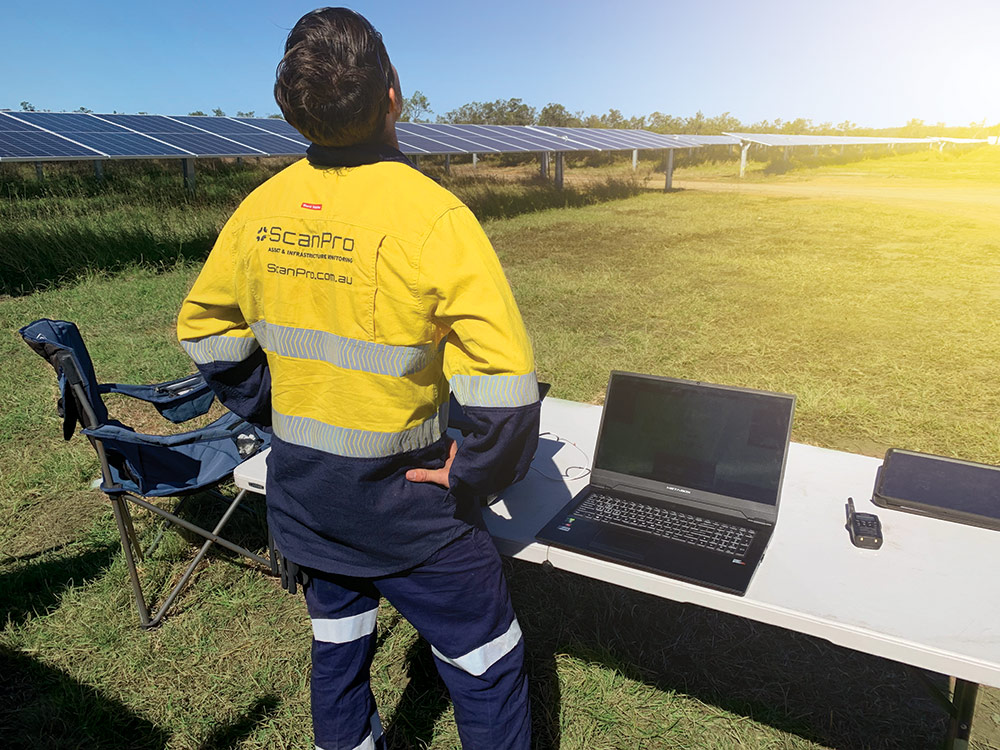 ScanPro has identified four main areas where our aerial and ground based
inspection work can help Australia's growing solar industry.
Total System De-risk Assessment encompasses all components of a photovoltaic system. This includes wiring, switches, a mounting system, one or many solar inverters, a battery bank and battery charger. ScanPro Guaranteed provides O&Ms to get with a total map of your solar to pole equipment.
IEC testing and certification brings together the agreed-upon set of rules, specifications, and terminology that allow manufacturers to have their devices tested for conformity. ScanPro Certified ensures that your compliance documentation is up to date and complete, or you have clear plan to certification.
ScanPro Overwatch Credibility
As renewable energy technologies, distribution methods and business models evolve, risks keep growing. Cost-saving measures impact operational efficiency and may result in challenges to long-term loss performance. ScanPro Overwatch allows insurance organisations to get a true picture of the asset under management.
ScanPro Protocol delivers reporting, results and certification in a pre determined and easy to understand systematic way. Deadline driven, results focused and clearly communicated information. That's the ScanPro Protocol.
How ScanPro's comprehensive methodology empowers you to gain actionable insights and make informed decisions about your assets.
Aerial Survey

Aerial Survey entire solar or wind farm capturing using Infrared Thermal imagery of Photovoltaic module condition – This may be done through multi-rotor or fixed wing drone technology.

Identify & Analyse

Identify module defects and potential anomalies – All defects are recorded by ScanPro's field operators on to site drawings for closer analysis.

Ground based inspection

ScanPro will carry out a thorough ground based assessment of all modules located during aerial inspection using industrial grade Infrared thermal optics.
Data Recording

Record data to database and confirm location of affected modules – Engineers drawings are used to highlight location. All affected PV modules are marked with coloured spot indicator for future easy reference and help maintenance crews

Offsite Analysis

Off site analysis begins – ScanPro's engineers begin constructing analysis and report.

Report Compilation

Report compiled and delivered to client – Within 14 days of completing the asset scans, report and data captured during inspection is delivered to client.
Our Clients
ScanPro provides services to governments, councils, insurance providers, electrical contractors
and a range of other businesses.

Deliver confidence, build credibility and support investment.